Strong lead! EverPro has completed the first HDMI®2.1 UHS Active Cable certification with Cable ID function in GRL.
The 10-meter HDMI®2.1 AOC cable with Cable ID function developed by EverPro successfully passed the HDMI®Ultra High Speed Active Cable (HDMI®2.1 UHS Active Cable) certification test in GRL Dongguan Laboratory on April 9th, 2022 and obtained the certification certificate issued by HDMI Forum. This is the latest HDMI®2.1 UHS AOC with Cable ID function after the Cable ID function is incorporated into the HDMI®2.1 CTS certification standard.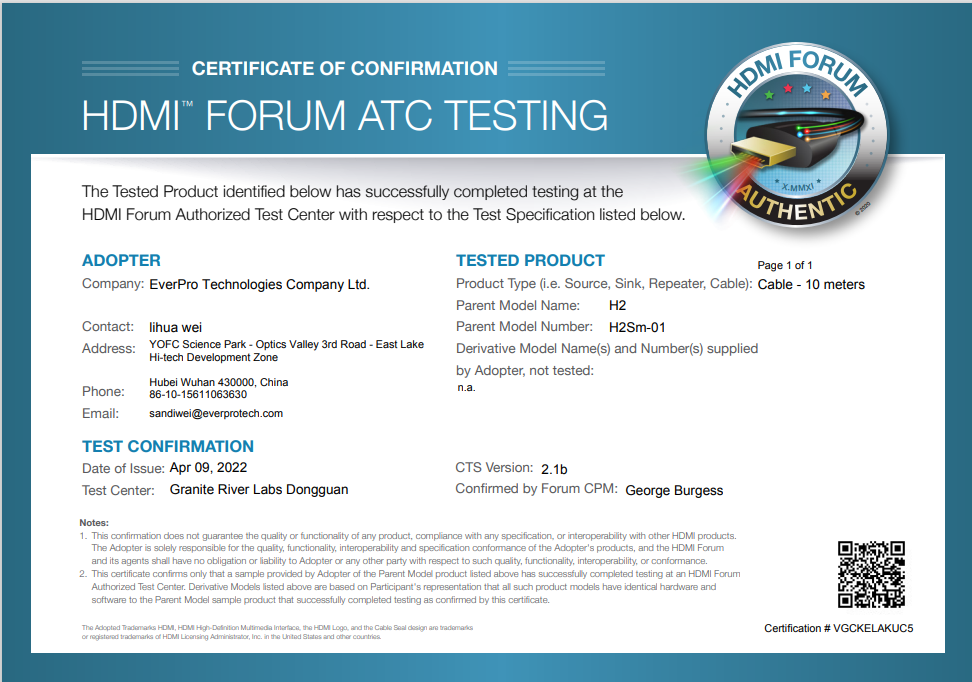 Certification Certificate (Figure)
With the increase of signal rate to 12Gbps and transmission on 4 pairs of signal channels, HDMI 2.1 passive/non-source cables face inevitable length and weight limitation, so the active cable has gradually become the mainstream cable and is widely used in HDMI 2.1 equipment connection. Compared with passive/non-source cables, the active cables usually contain active circuit components with equalization function inside the active cable, which are directional in use and have more optional characteristics. According to the new HDMI specification, Cable ID is used to identify these characteristics of cables. Cable ID information includes: whether HEAC and PCA are supported, whether there is a need to distinguish the directions cables, whether wrong direction indication is supported, and manufacturer information. In order to improve the user experience and enhance the compatibility of the system, HDMI devices need to identify the cables connected to the system, and configure them interactively through the Cable ID to achieve the best performance. Therefore, in January 2022, the Association included the Cable ID in the mandatory items of HDMI 2.1 CTS certification test (passive/non-source cables do not need to be tested), so as to guide consumers to purchase HDMI 2.1 UHS Active Cable that meets the specifications.
As a leading manufacturer of high-speed cable design and manufacturing in the industry, a major contributor member of HDMI Forum and an important adopter of HDMI, EverPro is committed to independent photoelectric conversion chip design and development and AOC cable design and manufacturing, and providing various long-distance ultra-high definition transmission solutions, so as to bring users a more stable, higher-quality and more convenient connection experience.
EverPro Technologies Company Ltd.
Contact: 86-027-65271767
Address: Guanggu Third Road, East Lake High-Tech Development Zone, Wuhan, Hubei, 430073
Email: sales@everprotech.com
Website: http://www.everprotech.com/